One word can be used to describe Jefferson Thomas' music: American. It is quite literally a "melting pot" – of the places he's been and the things he's seen, heard, and felt.
Jefferson started out in his father's footsteps as a guitarist in his teens, playing professionally all around the US.   With the money he had packed away from gigs and a music scholarship, he headed off to college, where he discovered vintage R&B and soul after somehow winding up being the lead vocalist in a nine-piece horn band.  A thousand gigs later he had refined the "blue-eyed soul" vocal style that today sits atop his rich amalgam of retro fingerstyle-guitar, alt-pop, and indie rock.
While in college he also interned in the music school's recording studio and practically lived there while recording his first release. "I was nineteen when I put out my first CD", says Thomas. "It's probably still out there somewhere, which makes me feel queasy. I don't think I even still own a copy."
Jefferson's live video of his song "Jacksonville" from an NPR broadcast went viral and introduced him to audiences worldwide. As a result, he embarked on his first European tour, and has subsequently toured overseas every year since, constantly breaking new ground and growing his fan base.
Jefferson will be in the studio for the winter preparing a new release for 2022, and worldwide touring to support it will resume in the spring.  Stay tuned!

You sign up for some artists' mailing list and all you get is one free song? An autographed photo? That's LAME!  When you join the JT INNER CIRCLE, you automatically get this FREE SAMPLER of Jefferson Thomas music right in your inbox! A curated selection of tracks from each album.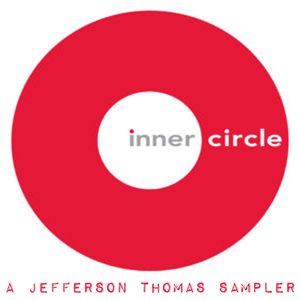 Aside from news, tour dates, new music and videos, etc., you'll receive exclusive cool stuff (we hate the world "content") only available to the Inner Circle, like private event notifications, bootlegs, live tracks, embarrassing radio promotions gone horribly wrong, and just general fun and mayhem.